Do your kids a flavor
Ask your Rite Aid pharmacist to add FUN FLAVORS to your child's medication.
Take the stress out of your child's medicine-time today! We can add your child's favorite flavor to their medication for a more enjoyable experience for the whole family.
It's FREE with wellness+ rewards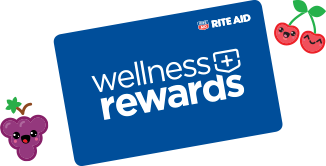 *Flavors can only be added to liquid medication. Regular cost is $2.99. Available while supplies last. See pharmacist for details.
To enjoy the great benefits of wellness+ rewards,
all you need is a FREE wellness+ account.
---
Choose your flavor

Medicine-Time Tips for Liquid Medicine

Use the Right Tool
Dosing syringes tend to work best since you can aim the medicine away from the tongue and dispense it quickly. Some children like dose cups as they are easier to drink from and easier to hold. Find what works best for your child and go with it.

Numb the Tongue
Taste buds do not work as well when they are cold. Try having your child suck on an ice cube or ice pop before taking medicine.
Practice Makes Perfect
Let your child give pretend medicine to a doll or stuffed animal and explain why it is important. This experience should make taking real medicine a lot easier.

Reward and Praise
Stickers, special treats, or an extra bedtime story are just a few of the little things you can do.
Manage your family's health in the palm of your hand
Use the Rite Aid mobile app to refill prescriptions, receive prescription notifications, and track your family's prescription history.