There's nothing quite like the coziness, warmth and togetherness of holiday baking. Easy holiday cookie recipes, like gingerbread or stained glass cookies, are perfect to bring to a family gathering or cookie swap, and creative recipes like peppermint bark and eggnog cupcakes will evoke the sweet smells of the season.
Whether you're a seasoned baker or just starting out, these holiday baking recipes will have you jingling all the way to the kitchen. So, put on some Michael Bublé and grab your apron — your sweet tooth will thank you!
Gingerbread Cookies
As far as holiday baking recipes go, this one by Love From the Oven is sure to become a favorite for its simplicity and ease. There's no chilling required, so these are the cookies to bring to an exchange if you're short on time. First, gather your ingredients: ¾ cup unsalted butter (softened), 1 cup granulated sugar, 1 large egg, ¼ cup molasses, 2½ cups all-purpose flour, 2 tsp baking soda, ½ tsp salt, 1 tsp cinnamon and ½ tsp ginger (optional: granulated sugar to roll balls of cookie dough in).
Preheat your oven to 350 degrees. Mix together butter and sugar until fluffy; add egg and molasses, and mix well. In a separate bowl, combine flour, baking soda, salt, cinnamon and ginger. Add dry ingredients to wet ingredients, and mix until they're fully combined. Form dough into balls just smaller than a golf ball. For an extra sugary layer, roll dough balls in sugar (this step is optional). Place dough balls on a baking sheet 2 or 3 inches apart, then bake for 10 to 12 minutes. Allow cookies to cool for 10 minutes before transferring to a wire rack or plate to finish cooling. Soft, chewy goodness awaits!
Prep Time: 15 minutes
Cook Time: 20 minutes
Total Time: 35 minutes
Servings: 24 cookies
Calories Per Serving: 143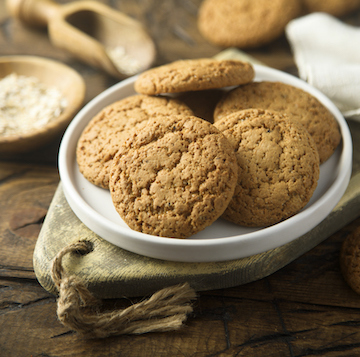 Peppermint Bark
Minty, chocolatey, crunchy — peppermint bark has it ALL. This recipe from Dinner at the Zoo is one of those holiday baking recipes that doesn't even require you to turn on your oven, so you can stay cool and collected during your party prep. Even better, it calls for only four ingredients: 12 oz. semisweet chocolate chips (or chopped semisweet chocolate, if you prefer), 16 oz. white chocolate chips (or chopped white chocolate), ½ tsp peppermint extract, and ¾ cup crushed candy canes (place candy canes in a Ziploc bag, then use a rolling pin to break them into small pieces).
In a medium bowl, melt the semisweet chocolate chips in the microwave in 30-second increments, until melted; stir until smooth. On a large piece of parchment paper, spread the chocolate into a 9x13-inch rectangle. Place in the fridge for 15 minutes to set. In a new bowl, heat white chocolate chips in the microwave for 30-second increments until melted; add the peppermint extract and stir until smooth. Spread the white chocolate over the semisweet chocolate layer, then top with the crushed candy cane bits. Let the bark harden in the fridge for about 20 minutes until completely set. Then, remove the bark from the fridge and let it sit at room temperature for about 10 minutes before breaking it into pieces and serving. The only downside of this recipe? It will likely disappear quickly!
Prep Time: 10 minutes
Cook Time: 5 minutes
Total Time: 15 minutes
Servings: 16
Calories Per Serving: 276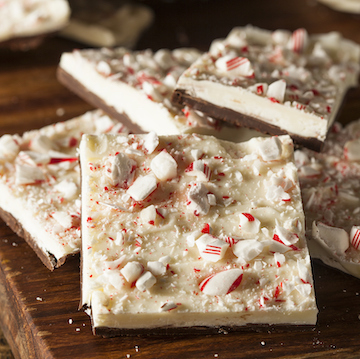 Eggnog Cupcakes
This recipe for eggnog cupcakes from Life Love and Sugar is basically a holiday dream come true: a favorite festive beverage in cupcake form. When it comes to holiday baking recipes, this one is extra special, with eggnog flavors in both the cake and buttercream frosting. For the cupcakes, you'll need 1¼ cups flour, 1½ tsp baking powder, ¾ tsp nutmeg, ¼ tsp salt, 6 tbsp unsalted butter (room temperature), ¾ cups sugar, 1½ tbsp vegetable oil, 1 tsp vanilla extract, 2 large eggs, and ½ cup plus 2 tbsp eggnog. The frosting calls for ½ cup unsalted butter, ½ cup shortening, 4 cups powdered sugar, 4 tbsp eggnog, ¼ tsp rum extract (optional), 1 tsp nutmeg and a pinch of salt.
Place liners in a cupcake pan and preheat the oven to 350 degrees. Combine flour, baking powder, nutmeg and salt in a medium-sized bowl. In another bowl, beat together butter, sugar and oil until light and fluffy (about 3 minutes). Add the eggs one at a time, then the vanilla. Add the dry ingredients to the wet ingredients, then slowly add eggnog and mix until well combined. Fill liners slightly over half-full and bake 15 to 18 minutes; remove from oven and place on a rack to cool. And now, for the best part (the frosting!): Combine butter and shortening in a large bowl and mix well. Next, add powdered sugar and mix until smooth. Lastly, add rum extract, nutmeg and eggnog until fully combined. Frost cupcakes and sprinkle with nutmeg and garnish with a cinnamon stick. Grab a cold glass of milk and enjoy!
Prep Time: 1 hour
Cook Time: 18 minutes
Total Time: 1 hour and 18 minutes
Servings: 12
Calories Per Serving: 302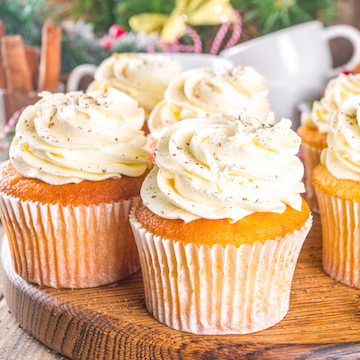 Stained Glass Cookies
These fun cookies from That Skinny Chick Can Bake are the ultimate eye candy (and they contain actual candy — Jolly Ranchers!) You'll be the talk of the cookie swap with these jewel-toned beauties, and you'll certainly want to add them to your collection of easy holiday cookie recipes. First, gather 3 cups flour, ¾ tsp baking powder, ¼ tsp salt, 1 cup butter (softened), 1 cup sugar, 1 egg, 1 tbsp milk, powdered sugar (for rolling out dough), and Jolly Rancher candies (place 5 to 7 cherry, sour apple and blue raspberry candies in separate baggies and pound with a meat mallet until the candies are smashed into a powder).
Combine flour, baking powder and salt, then set aside. With a mixer, beat together butter and sugar, then add egg and milk. With the mixer on low speed, add flour slowly and beat until the mixture begins to pull away from the sides of the bowl. Wrap the dough in plastic wrap, then refrigerate for two hours. Preheat the oven to 350 degrees, then sprinkle your surface with powdered sugar and roll out the dough to ¼ to ⅛ inch thickness. Cut dough into desired shapes; then, using a smaller cookie cutter of the same shape, cut out a center section of the larger cut-out to make a "window." Line a cookie sheet with parchment paper and place the cookies about 1 inch apart. Spoon the crushed Jolly Rancher candies into the middle of each cookie, then bake 7 to 8 minutes or when the cookies are just beginning to turn brown at the edges. Cool for a few minutes on the baking sheet to let the candy solidify before transferring to a rack or plate. Voila!
Prep Time: 40 minutes
Cook Time: 8 minutes
Total Time: 48 minutes
Servings: 24
Calories Per Serving: 224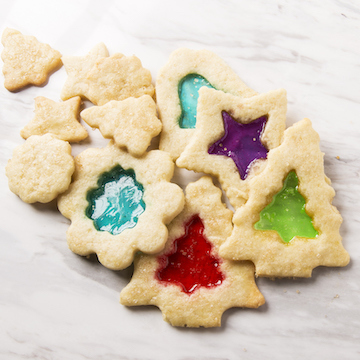 You don't have to be Ina Garten or Martha Stewart to whip up a little holiday magic in the kitchen; these holiday baking recipes are for bakers of all levels! From gingerbread to peppermint to eggnog to hard candy, there's a delightful flavor for every tastebud.
Written by: Jaime Budzienski