Apple picking season is just around the corner! Apples are a versatile fruit that can be used in a variety of mouthwatering dishes, whether for breakfast, as a snack or in a delectable dessert. They're also a great ingredient for healthy recipes, as they're low in calories and high in fiber. With so many benefits, it's no wonder there are a number of popular and easy recipes with apples to consider.
Apples are a natural way to add sweetness, texture and flavor to dishes without using sugar or high-calorie ingredients. As an excellent source of fiber, they can help to regulate digestion and keep you feeling full for longer.
When choosing the right apples for your recipes, it's important to consider the variety. Some apples are better for baking, while others are better for eating raw. Granny Smith, Honey Crisp and Braeburn are good for baking. On the other hand, Gala, Red Delicious and Fuji are great to bite right into. By choosing the right variety, you can ensure that your creations come out perfectly every time.
Benefits of Recipes With Apples
Versatility: Apples can be used in a wide range of recipes and meals, from sweet to savory. They can be baked, sautéed, roasted or eaten raw. You can use apples in desserts, such as pies, crisps and cakes, as well as in savory dishes, such as soups, stews and even salads. They also pair well with a variety of other ingredients, such as cinnamon, caramel, cheese and pork. The list is seemingly endless!

 

Shelf life: Apples have a relatively long shelf life compared to other fruits, which makes them a convenient ingredient to have on hand. When stored properly, apples can last for several weeks or even months. To store apples, keep them in a cool, dry place away from direct sunlight. Wrap each apple individually to prevent them from touching each other, as this can cause them to spoil more quickly.

 

Cost-effective: Apples are a relatively inexpensive fruit, especially when they're in season. They can be purchased in bulk and used in a variety of meals, which can help to save money on groceries. Using apples in your cooking can help to stretch more expensive ingredients, such as meat or cheese.

 
Easy Apple Breakfast Recipes
If you haven't already, try apples in your family's favorite breakfast meals. Here are two simple apple breakfast recipes that are both delicious and nutritious:
Apple Pancakes
Apple pancakes are a great way to start your day! They're easy to make and a healthy alternative to the more sugary chocolate chip option. To make apple pancakes, you can use all-purpose flour, sugar, baking powder, baking soda, salt, milk, eggs and apples. Mix wet and dry ingredients separately before combining with apples. Cook in a heated skillet until done and enjoy.
Apple Oatmeal
Looking for something else? Apple oatmeal is a hearty and filling breakfast that's perfect for a chilly morning. Use rolled oats, water, apples, cinnamon, nutmeg and honey for a comforting early-morning meal.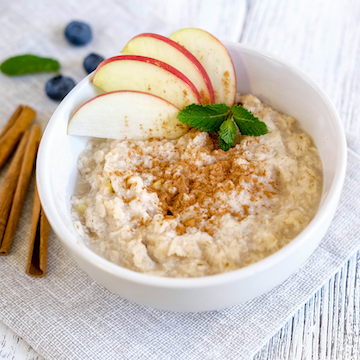 Quick Apple Snacks
Apples make fast snacks for busy on-the-go days. Try one of these quick snack options:
Apple Chips
Apple chips are a great alternative to traditional potato chips. They are crunchy, sweet and satisfying. Plus, they're easy to make at home!
To make apple chips, cut an apple into thin slices and place the slices on a baking sheet lined with parchment paper. Bake at 200°F for about two hours, flipping the slices halfway through. Once they're crispy and golden brown, remove them from the oven and let them cool.
Dip them in a cinnamon yogurt dip or a peanut butter dip for a sweet treat!
Apple Slices With Peanut Butter
Apple slices with peanut butter are a tried-and-true snack that never gets old. They're packed with protein and fiber — and couldn't be simpler to put together. To make apple slices with peanut butter, simply slice an apple into wedges and spread peanut butter on each wedge.
For an extra crunch, sprinkle some granola on top.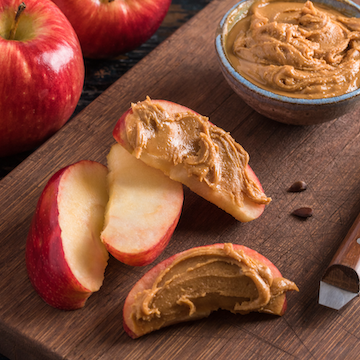 Simple Apple Desserts
With apple desserts, there are a few classic recipes that everyone should know. Apple crisp and apple pie, in particular, are two dessert favorites that are simple to make and stand the test of time.
Apple Crisp
Apple crisp is a dessert that's perfect for fall but can be enjoyed year-round. It's made with sliced apples that are topped with a mixture of oats, flour, brown sugar and butter. Bake the mixture until the streusel-like topping is golden brown, usually about 30 to 40 minutes.
To make apple crisp even easier, consider using a pre-made apple pie filling instead of slicing your own apples. This will save time and still make for a delicious dessert.
Apple Pie
Apple pie is another classic dessert and a similar sweet option. It's made with a simple pie crust that's filled with sliced apples, sugar, cinnamon and butter. The pie is then baked until the crust is golden brown and the apples are tender, typically around an hour.
Wondering what makes apple pie different from apple crisp? A traditional apple pie has a buttery and flaky crust on both the bottom and top, and the filling is usually softer and tender due to a longer bake time. Apple crisp has a crunchy, crumbly topping, a firmer texture in the apple filling and no bottom crust.
Overall, simple apple desserts like apple crisp and apple pie are perfect for any occasion and always a crowd-pleaser.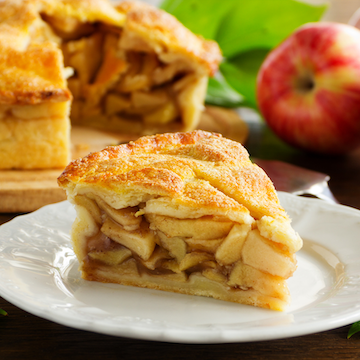 Healthy Apple Recipes
One of the best reasons to incorporate apples into your mealtime plans? It's healthy!
Here are two easy and delicious recipes to try that support a balanced diet:
Apple Salad
A fresh apple salad is a great way to enjoy the fruit's sweetness while getting in some healthy greens. Consider mixing together your favorite leafy greens, a sliced apple, chopped walnuts and feta cheese. Combine apple cider vinegar and olive oil for a flavorful salad dressing to finish this dish.
Baked Apples
Baked apples are a comforting and healthy dish that anyone can make. Cut the top off each apple and remove the core and seeds. Add honey, nuts, coconut oil, cinnamon and salt inside each apple and bake on parchment paper inside a baking dish. And voila!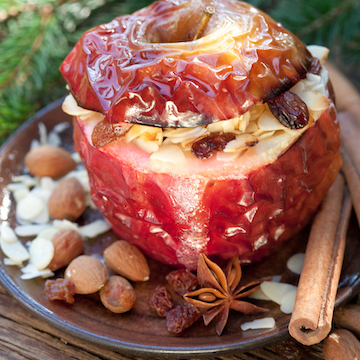 These easy recipes with apples are perfect for fall. With so many options available, it's no wonder that this versatile fruit is a favorite ingredient in many kitchens. Whether you're looking for a sweet dessert or a savory main course, there's a recipe out there that will fit the bill. So, why not pick up some apples on your next grocery trip and get cooking?
Written by: Krystal Lucier