As autumn brings its rich and warm hues, it's the perfect time to indulge in seasonal flavors with elegant fall cocktail recipes. There's a variety of ingredients that lend themselves beautifully to sophisticated and flavorful fall drinks. The richness of seasonal fruits, spices and aromatics creates a harmonious blend of tastes that capture the essence of autumn.
We're here to help you explore delightful fall drink recipes, featuring ingredients easily found at your local Rite Aid store.*
Fabulous Fall Cocktails
This colder-weather season is the perfect time for hayrides, apple picking and enjoying fabulous fall-themed cocktails. These recipes can add an extra touch of magic to your festivities, and the themed drinks could even match your decorations, such as bunches of dried flowers, bowls of apples, and piles of gourds and pumpkins.
Spiced Apple Mule
Combine the warmth of spiced apple cider, the zing of ginger beer and the tang of lime juice for this refreshing and cozy cocktail.
Ingredients:
2 oz vodka
½ to 1 oz whisky (fireball cinnamon works great!)
½ oz lime juice
4 oz apple juice or cider
3 oz ginger beer
Directions:
Combine all the ingredients in a cocktail glass or copper mug. Add ice and stir.
Garnish with apple slices and a cinnamon stick for an elegant presentation.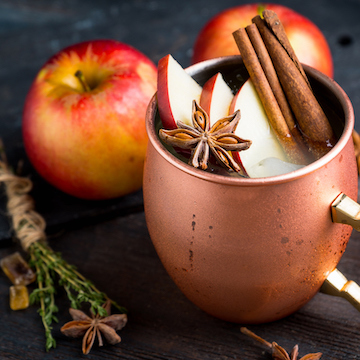 Cranberry Old Fashioned
Elevate the classic old fashioned by infusing it with the tart sweetness of cranberry juice. A dash of orange bitters and an orange twist add layers of flavor, creating a sophisticated fall twist on a timeless favorite.
Ingredients:
8 fresh or frozen cranberries
2 tsp sugar
2-3 dashes of orange bitters
1 strip of orange zest
1 tbsp water
2 oz of bourbon
Directions:
Muddle everything but the bourbon in a medium glass until the sugar dissolves.
Add the bourbon and ice cubes, and stir.
For a stunning presentation, garnish with extra frozen cranberries and orange zest.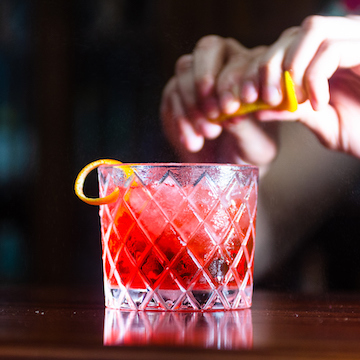 Pumpkin Spice Martini
Embrace iconic fall flavors by crafting a pumpkin spice martini that boasts the essence of pumpkin, vanilla and warming spices.
Ingredients:
1 tbsp sugar
1 ½ tsp pumpkin pie spice, divided
1 ½ oz vanilla vodka
1 ½ oz Irish cream liqueur, plus more for rimming
1 ½ tbsp pumpkin purée
Directions:
Mix the sugar and 1 tsp of pumpkin pie spice in a small bowl.
Pour a little Irish cream into another small dish. Dip the rim of your cocktail glasses into the Irish cream, then roll them in the sugar mixture. Place them in the freezer to quickly chill while you make the cocktail.
Pour the vanilla vodka, Irish cream, pumpkin purée and remaining 1/2 tsp of pumpkin spice into a cocktail shaker and fill it with ice. Shake vigorously.
Strain the cocktail into your prepared cocktail glasses and garnish with a cinnamon stick.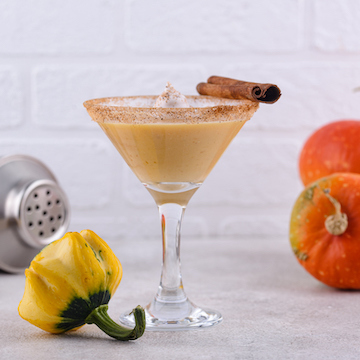 Happy Harvest Mimosa
Nothing says harvest time quite like apples! This simple and classy drink is sure to impress your guests.
Ingredients:
1 bottle of Champagne
1 cup apple juice or cider
2 tbsp sugar
1 tbsp ground cinnamon
Directions:
Combine cinnamon and sugar in a small bowl or plate. Dip champagne flutes in water to wet the rims, then dip into the cinnamon sugar mixture.
Fill champagne flutes ¼ full with apple juice or cider, then top off with Champagne.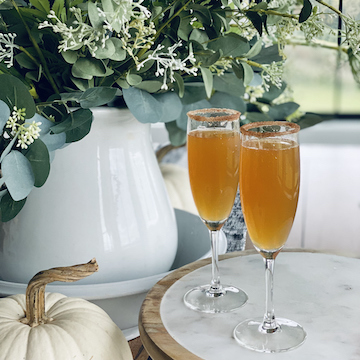 Marvelous Mocktails
Who says you need alcohol to make fabulous fall cocktail recipes? Embrace the spirit of fall by experimenting with an exquisite fall cocktail recipe that brings the elegance of the season to your glass without adding wine or spirits.
This delightful concoction is a non-alcoholic option that's family-friendly, allowing everyone to sip seasonal flavors together.
Festive Fall Fizz With Apple and Ginger
For an inclusive drink with all of the allure of autumn, this fall fizz packs a powerful (and delicious) punch without the liquor. Though you can use ginger ale, if you want a stronger ginger flavor, go with ginger beer.
Ingredients:
⅓ cup apple cider
1 tbsp fresh-squeezed lime juice
1 tsp apple cider vinegar
1 dash of powdered cinnamon
4 mint leaves, rubbed between your fingers to release the scent
⅓ cup ginger beer
Ice cubes
Directions:
Place the first four ingredients in a cocktail shaker or a jar with a tight lid (such as a mason jar).
Shake the jar vigorously for about 20-30 seconds, or until the ingredients are combined.
Pour into an ice-filled glass, top with ginger beer or ginger ale, and stir gently.
If desired, top with more fresh mint, a cinnamon stick or other garnishes, and serve.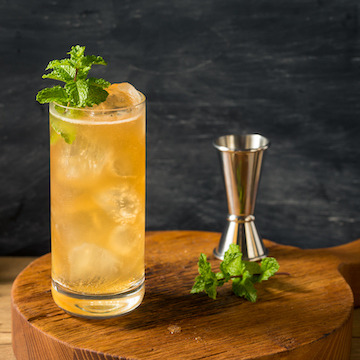 Celebrate the season in style by crafting these elegant drinks that embody the flavors of autumn. With a quick visit to your local Rite Aid*, you can easily gather the ingredients needed to create these crowd- and palate-pleasing beverages.
*Selection may vary by store.
Please drink responsibly.
Written by: Cassandra Brooklyn