Elevate your next social gathering with an exciting collection of holiday drink recipes. We've created a list of festive drinks, including classic holiday beverages with a twist along with new recipes, all made using Rite Aid products. These recipes can help you impress guests and spread festive cheer without spending the entire day in the kitchen or breaking the bank.
From crafted cocktails blending premium spirits with seasonal flavors to refreshing mocktails catering to all tastes, Rite Aid's curated selection has something for everyone.
Wonderful Winter Cocktails
Whether you're hosting a cozy gathering or a grand celebration, these holiday drink recipes will delight friends and family alike.
Spiked Egg Nog

Egg nog screams winter cheer, and this simple recipe is kicked up a notch by adding spirits. You can make your own egg nog at home or save time by using store-bought egg nog. This recipe is flexible but aims for a ratio of about five portions of egg nog to one portion of your selected spirit. For each 8-oz glass, add one shot (1.5 oz) of alcohol.
Ingredients:
Directions:
Combine the alcohol and egg nog, and stir gently.
Garnish with ground nutmeg, maple syrup, honey or a cinnamon stick for some flair.
Apple Cider Sangria

Though sangria is often served at breakfast and brunch, this fruity beverage pairs equally well with appetizers and dinners alike. This recipe is deceptively easy — just make sure to allow time for it to chill in the fridge to fully bring out all its flavors.
Ingredients:
Directions:
Combine the apple cider, brandy, wine and fresh lemon juice in a pitcher and stir in the apple slices.
Allow the mixture to chill in the fridge for at least four hours (and up to one full day) so that the flavors develop.
Just before serving, add the ginger ale to the mixture. Stir and serve.
Espresso Martini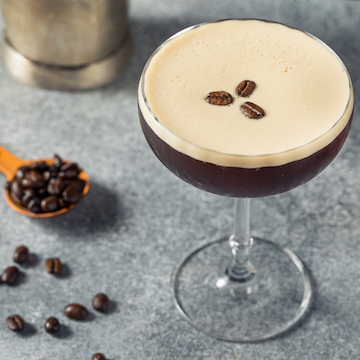 Espresso martinis are practically perfect any time of year but they pair especially well with winter desserts, which tend to be very sweet and rich. Winter desserts also tend to be full of flavors that pair well with coffee, such as chocolate and mint. Serve this espresso martini as is or give it additional holiday cheer by topping it with whipped cream and shaved chocolate or peppermint.
Ingredients:
Directions:
Take a cocktail shaker and fill half of it with ice. Fill the other half with the remaining ingredients. Shake vigorously until a layer of foam develops on top of the liquid.
Pour the mixture into chilled glasses (ideally, martini glasses) to serve.
If desired, garnish with a few coffee beans, shaved chocolate or peppermint.
Marvelous Mocktails
Alcohol is entirely optional when it comes to these delectable drinks. Not only are they great for adults who prefer a non-alcoholic version, but they're also suitable for children.
Christmas Punch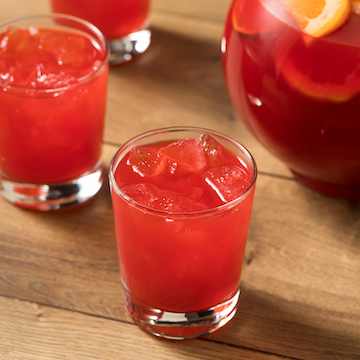 This cheery Christmas punch can be served any time of day. On its own, it's a family-friendly beverage. But, if you splash in some champagne, it turns into a refreshing holiday cocktail for the adults.
Ingredients:
Directions:
Combine all of the juices in a large pitcher and add the sliced ginger. For maximum flavor, let it sit in the fridge overnight, for up to 24 hours.
When ready to serve, place ice cubes in a tall glass and fill it halfway with the juice mixture. Top with sparkling apple cider. Stir and serve immediately.
Frosty Pomegranate Mocktail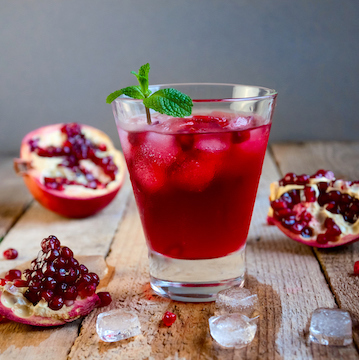 A non-alcoholic rum could be added to this fruity holiday mocktail, but it's totally optional, as the drink is full of flavor on its own. If you use ginger ale instead of soda water, you won't need to add an additional sweetener.
Ingredients:
Directions:
Place lime wedges, pomegranate juice and sweetener (if using) in a tall glass. Muddle gently until all the juice has been pressed out of the lime.
Add the mint leaves to the glass and press a few times with the muddler.
Add ice to the glass, top with soda water or ginger ale, and stir well.
If desired, garnish with pomegranate seeds, lime wedges or more fresh mint.
Whether you prefer a crafted cocktail with high-end spirits or refreshing holiday mocktails, this selection caters to all your guests. Add an extra touch of magic to your upcoming holiday gatherings with these delightful and festive drink recipes.
Please drink responsibly.
Written by: Cassandra Brooklyn