As the saying goes, breakfast is the most important meal of the day, and it's especially important for people with diabetes. According to the American Diabetes Association, food plays a huge role in balancing blood glucose (blood sugar) levels and minimizing highs and lows. Breakfast foods for people with diabetes can be delicious, affordable and easy to prepare, if you know what to buy. Let's dig into what exactly a healthy breakfast would look like, including options that are satisfying and nutritious.
Whether you're looking to stabilize blood sugar levels, boost energy or enjoy a tasty morning meal, these options are worth trying. Plus, you can easily find some of these foods or ingredients at your local Rite Aid, making your diabetes-friendly breakfast routine more convenient.
1. Oatmeal
A balanced breakfast is essential for managing diabetes and starting your day on the right foot. Consider kicking off your day with a bowl of oatmeal, which is rich in fiber, low in sugar and helps regulate blood sugar levels.
Ensure you're opting for pure, unadulterated oatmeal like Quaker Old Fashioned Oatmeal, which is just oats. Most flavored single-serving oatmeal packs are loaded with sugar, so when making your oatmeal, add in some fresh berries or nuts for extra flavor and nutrients. You can also stir raw oats into your yogurt (and let it sit overnight to soften) or make oatmeal pancakes.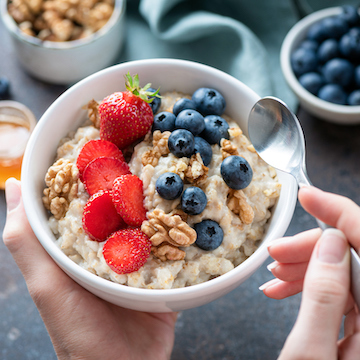 2. Greek Yogurt
All yogurts have essential nutrients, but plain Greek yogurt contains more protein and less sugar than regular yogurt. It's an excellent source of calcium and probiotics, which help promote good gut health.
If you go with flavored varieties, be sure to read the nutrition labels and opt for low-sugar varieties and those sweetened with real fruit instead of with sugar and artificial sweeteners.
3. Eggs
Eggs are a protein powerhouse that can help you feel satisfied. Besides being a good source of protein, they're also low in carbs and have a low glycemic index score. Plus, eggs are extremely versatile, as you can prepare them scrambled, poached or in a vegetable omelet.
You can prepare an entire carton of cage-free eggs at once by making a vegetable quiche or a batch of easy spinach egg bites in muffin tins. Or, boil them and make a large batch of egg salad so you'll have plenty of leftovers for subsequent meals.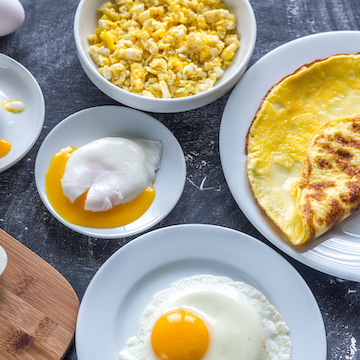 4. Whole Grain Toast
A healthy breakfast for those with diabetes will be satisfying, filling and healthy. One of the easiest ways to achieve this is by switching from white to wheat. Swap out white bread for whole-grain wheat bread when making toast. It provides more complex carbohydrates and fiber, which prevents rapid spikes in blood sugar.
Whole grain bread tastes great and is also more filling than white bread so you'll stay full longer.
5. Avocado
Not all fats are created equally and avocados are packed with healthy fats, plus loads of fiber and essential nutrients. Spread it on your whole grain toast, or use it to top your omelets or as a creamy base for smoothies.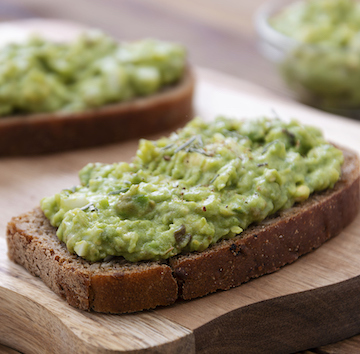 6. Cinnamon
Breakfast foods for people with diabetes come in all shapes and sizes — and sometimes it's not just about the main food you're eating, but about how you're seasoning it. Not only does this spice add flavor, but may also help improve insulin sensitivity. Sprinkle a bit of cinnamon on your oatmeal, yogurt or even in your coffee. You could also sprinkle it in smoothies, cottage cheese or onto peanut butter and banana sandwiches.
7. Chia Seeds
Chia seeds are a great source of fiber and healthy fats. Mix these tiny seeds into yogurt and oatmeal or create a chia pudding with almond or coconut milk for a delicious and nutritious breakfast.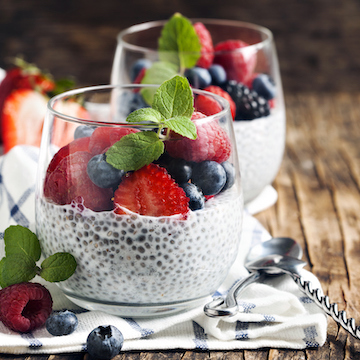 8. Berries
Fresh berries, such as blueberries, strawberries and raspberries, are low in sugar and high in antioxidants. They add a burst of flavor and color to your breakfast, and they're perfect for topping cereal, oatmeal and yogurt parfaits. You can also snack on them whole or throw them (fresh or frozen) into smoothies.
9. Nuts
In general, nuts make a great snack or meal addition — but almonds, walnuts and pecans, in particular, are excellent sources of healthy fats and protein. Sprinkle them on your yogurt or oatmeal for added crunch and nutrition or munch on them plain. Just be sure you're buying plain raw or toasted nuts and not those that are loaded with salt and sugar.
10. Green Tea
Tea (including black, white and green) has less caffeine than coffee and also packs extra nutrients that coffee lacks. Swap your regular morning beverage with green tea, which contains compounds that may help improve insulin sensitivity and regulate blood sugar levels.
Green tea is delicious on its own and doesn't need to be sweetened with milk or sugar, but make sure you aren't over-brewing/steeping it, which makes it bitter. Usually, 2-3 minutes of steeping is sufficient.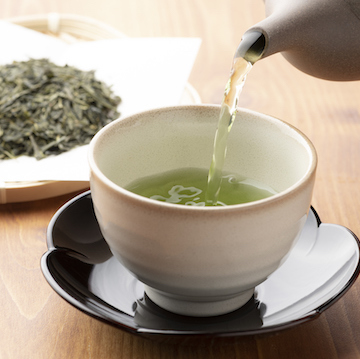 Enjoying a delicious breakfast while managing diabetes is entirely possible. By incorporating these 10 foods into your morning routine, you can create satisfying and blood-sugar-friendly meals. Many of these ingredients can be conveniently found at your local Rite Aid, making it easier than ever to maintain a nutritious and balanced diet to support your overall health and well-being.
Written by: Cassandra Brooklyn
These articles are intended for informational purposes only and are not a substitute for professional medical advice, diagnosis, or treatment and are not intended to treat or cure any disease. Never disregard professional medical advice or delay in seeking it because of something you have read in these articles. Advances in medicine may cause this information to become outdated, invalid, or subject to debate. Professional opinions and interpretations of scientific literature may vary. Consult your healthcare professional before making changes to your diet, exercise or medication regimen.